Indoor Air Quality Testing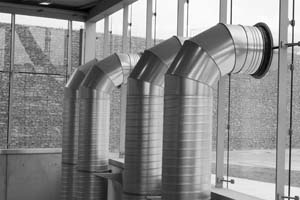 Indoor air quality testing has become a growing concern for Los Angeles residents. As one of the areas leading environmental consulting companies, Benchmark Environmental Engineering offers air-quality testing and inspections for homeowners, school districts, government agencies, and commercial or industrial facilities. We are licensed and certified by numerous federal and state agencies and we strictly adhere to all government regulations and guidelines. Place the health and safety of your tenants or employee in the hands of the trusted professionals at Benchmark Environmental Engineering.
Should I Worry About Air Quality?
Pollutants that contaminate indoor air can cause several health problems. These issues can range in severity from coughing sneezing and skin irritation to congestion dizziness and other respiratory problems. Those with asthma or other respiratory diseases are extraordinarily susceptible to these contaminants. Poor air quality can be a major contributing factor to tenant and employee illness, workplace absenteeism, and reduced productivity. All of these factors add up to additional costs.
What Creates Poor Indoor Air Quality?
Any number of pollutants may contribute to poor indoor air quality in residential commercial and industrial buildings. These contributing factors include but are not limited to:
Mold Growth Caused By Water Damage
Smoke Residue
Outdoor Pollutants
Pesticides
Emissions From Office Equipment Dust Mites
Malfunctioning HVAC Systems
Building materials containing Volatile Organic Compounds (VOCs).
Indoor air quality can be impacted by everyday objects that most people aren't aware can be harmful. These factors include overall temperature humidity the presence of pests or pets that are sources of allergens.
Testing By Certified Industrial Hygienists
The certified industrial hygienists employed at Benchmark Environmental Engineering perform on-site investigations for indoor air quality pollutants. The work we do for each project strictly follows all industry standards and EPA regulated protocols. We run a battery of tests to determine the exact cause or causes of the problem and transport all collected samples to a certified laboratory to analyze. Once the results are gathered, we will complete a remediation plan to remove any hazardous contaminants and a maintenance plan to prevent any further occurrences.
Let our industry professionals come to your aid when you need to inspect the indoor air quality of your commercial, residential, or industrial property.